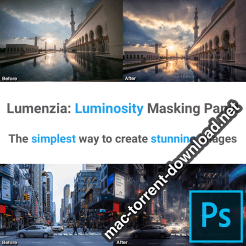 Lumenzia
computer
macOS >= RequirementsAdobe Photoshop CS6 or later (including PS 2021)
Support Big Sur
Non Silicon M1
Size:


25.44 MB

Version:


9.2.3

Category:


Design Assets
Overview

Luminosity masks allow you to create gorgeous and realistic edits in Photoshop. Lumenzia allows you to use use them quickly and easily. Its advanced javascript engine handles all the luminosity masking complexity for you in the background, so all you need to think about is making beautiful images.
Lumenzia v9 is fully compatible with my Dodging & Burning Master Course and Exposure Blending Master Course. None of workflows demonstrated in the courses have changed, and they more information on v9 in section 1 to help answer any questions.
Fun fact: If you've been using Lumenzia since v1.0, you've now received 1,482 (free) new features, updates, and bug fixes in total.
Note: Lumenzia v9 is fully compatible with Photoshop CS6 and current versions of CC (including PS 2021). Lumenzia is compatible with both Windows and MacOS (including Big Sur and M1 / Apple Silicon).
… and more
Full Release Notes: https://gregbenzphotography.com/lumenzia-releasenotes
Previous Versions

| Version | Download |
| --- | --- |
| 9.0.0 | |
| 9.2.1 | |
| 9.2.3 | |