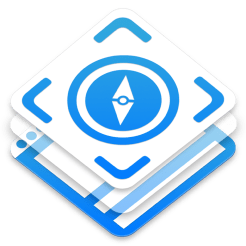 WebToLayers
computer
macOS >= OS X 10.13 or later, 64-bit processor
Support Big Sur
Non Silicon M1
Size:


24.60 MB

Version:


1.2.3

Category:


Graphics & Design
Overview

WebToLayers converts websites to Photoshop documents. In other words, the app allows you to screenshot webpages by keeping each element in a separated layer. The app will save you lots of time when re-designing or improving existing web pages.
The app allows you to capture full webpages as PNG or JPG, one huge image per webpage.
The app allows you to capture webpages as Photoshop documents with one layer for each html element.
The app allows you to capture webpages and save each as a hierarchy composed of images and folders.
You can open webpages directly from Safari with only one click. You can also use custom scheme URL by using webtolayers:// before your webpage address.
The app proposes an exhaustive list of sizes including standard web sizes as well as those of the most popular devices.
You can also select and edit the user agent. So you can simulate that the page is loaded from any device.
This version has been optimized for macOS High Sierra and later. Moreover, the application is available in 7 languages (English, French, German, Spanish, Italian, Japanese and Chinese). Feedback can be sent directly from the app. In this way, you can contact us for any suggestions and improvements in few clicks.
Previous Versions

| Version | Download |
| --- | --- |
| 1.2.0 | |
| 1.2.1 | |
| 1.2.3 | |