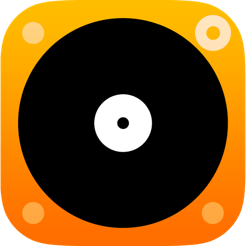 TurnTable
computer
macOS >= OS X 10.14 or later, 64-bit processor
Support Big Sur
Non Silicon M1
Size:


14.93 MB

Version:


4.0.2

Category:


Music
Overview

The New Music Player– The "New iTunes", The Killer Music App for Artists, Poets, Lyricists, People who Dream
Displays your music in a simple way – Nothing but. What iTunes should be. (And in a light, colorful simple interface.)
For artists, music aficionados, people who dream by day and night… Displays your music in grids of artists for fuller selection of what to listen to by a smoke or a cry. Or nothing but Albums elegantly displayed with their art, your albums in a collection view. Tracks displayed in a simpler utilitarian jukebox interface– where you could find a random track to bop to.
Tap an Album and… An Album displays in a realistic interface, just like a real album… Like analogous to a Record you hold in your hand. Dignifying the Art and the art form, showcasing the Album for album listening (and nothing but).
All as it should be.
4 Main Views
A full on chart/grid of artist selection (Not a mere list… rather more for a creative)
Your albums, nothing but.
Record cover flow rather built- more in to the app.
Old- style new jukebox interface of tracks.
Lightspeed program built- into the TurnTable Package. ____
Your music is re- tuned and played at the original musical tuning of 432Hz (with the original crystalline frequencies). It sounds lighter, brighter, more colourful… and brings your consciousness and mind WAY UP… *!
You have to hear it and play it to believe it. Day from night difference.
You can hear rainbows and waves in the strings. Color in the bass. Explosions of light even, if you have any good fortune. Harmonies beyond worlds, you haven't heard music in any way before this. You'll never want to listen to music any other way.
This is a main feature of TurnTable. Music in Colour.
* [ Rather than down, as the conventional/current "standard" of 440Hz dissonant musical tuning does. 432Hz tuning contains all the original crystalline harmonics of music; 440Hz contains none; and thus obviously sounds/is dark. 432Hz music promotes right- and left- brains – a holistic mind with the right brain. (The right brain, dreams and creativity.) 440Hz music is dissonant and dark… and promotes only the darker, more male and dark left brain at that. (not even the one in its right mind…)
432Hz music is really the only way to listen to music. The only tuning that is truly musical. 440Hz is dark and dissonant, arrogant "adapted" ears (reminds of listening to work rush hour/ rush act… listening to stress by "adaptation").
Anyone who disagrees simply doesn't know yet – based on nothing but misconceptions. ]
Previous Versions

| Version | Download |
| --- | --- |
| 3.1 | |
| 3.2.8 | |
| 4.0 | |
| 4.0.1 | |
| 4.0.2 | |