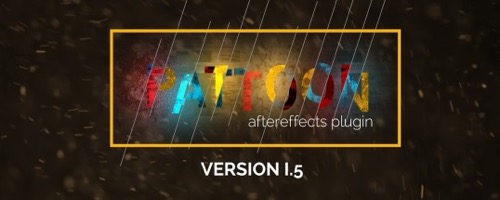 PATTOON Texturing Plugin
computer
macOS >= After Effects: 2020, CC 2019, CC 2018, CC 2017, CC 2015.3, CC 2015, CC 2014
Support Big Sur
Non Silicon M1
Size:


28.51 MB

Version:


1.5.1

Category:


Design Assets
Overview

Texture mapping in Adobe After Effects is finally made easy with PATTOON. Get direct layer access to your textures from Creative Cloud Libraries, Photoshop and more plus a bunch of extra features, textures and presets for all your designing needs.
GLITCH A texture driven, simple to use and highly customizable glitch effect. Choose a texture and adjust parameters such as colors, distance and speed. The last glitch plugin you will ever need.
DISPLACE Displace layers based on textures to create many versatile effects. Choose from displace methods (reverse, radial, bi-directional) and adjust intensity and offset point
SWAP Swap textures with a few clicks. Choose textures from a texture library to create a swap effect. Adjust speed and randomness of the effect.
FLICKER The flickering can be applied to the effect only or to the whole layer. Adjust its speed and randomness.
TURBULENCE Create a turbulence effect on a layer or texture only (keeps alpha channel). choose from up to 4 different customizable distortion modes.
Settings-Improvements and ready for AE 2020
Previous Versions